Ik ben groot verbruiker van de
nagellak remover
van
Kruidvat
, de groene mét aceton. Jaja, ik weet dat het uitdrogend werk en dat dat niet is wta je wilt als je al droge nagels hebt. Truth is dat ik, voor ik verslaafd raakte aan het groende goedje, altijd aceton-vrije remover had. Maar uiteindelijk duurde het allemaal veel langer om mijn restjes lak met de aceton-vrije remover te verwijderen. Toen ik gisteren mijn nagels in twee laagjes 'Wagon Trail' gehuld had, zag ik dat ik wellicht nog één keer mijn nagels kon ontlakken met de remover die ik nog in huis had. Tijd voor een nieuwe flacon!
Helaas zag ik alleen maar de roze remover (ARGHHH!), die waar dus geen aceton in zit. Gelukkig keek ik toen beter en zag ik nog één (!) flacon met aceton staan! Hoera! Maar ik keek wel raar op mijn neus, want deze is nu ook roze. Heel onduidelijk, Kruidvat.. Anyways, ik scoorde wat ik nodig had. Daarnaast zag ik deze handige aceton-vrije (das dan wel weer jammer ;)) nagellak remover in zo'n fijn pompflaconnetje staan! Jeweetwel, die jullie uit China halen via eBay! ;)
Lees snel verder!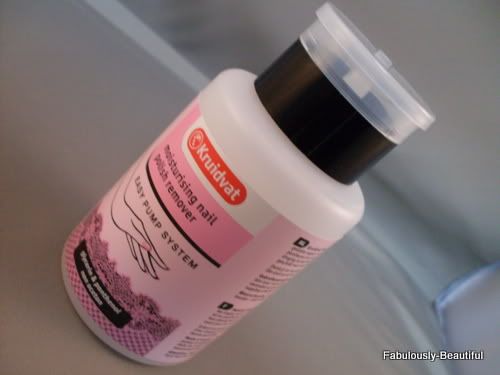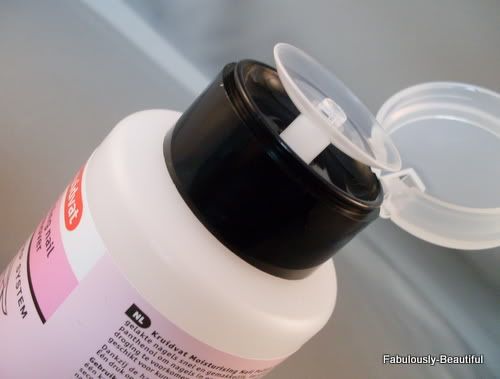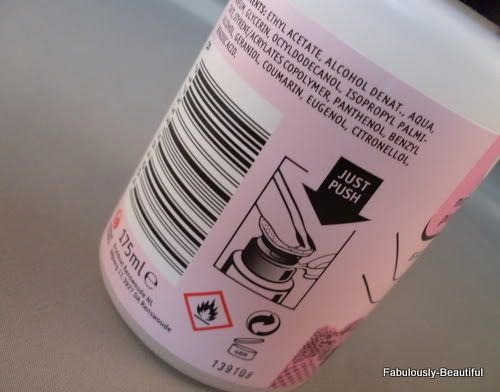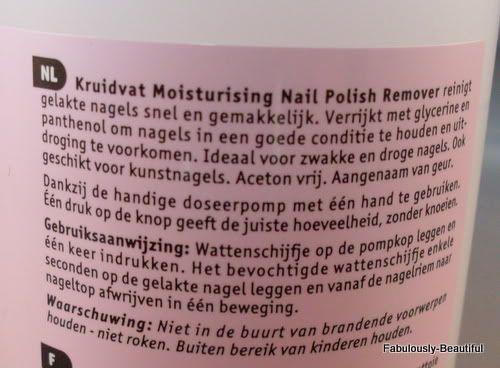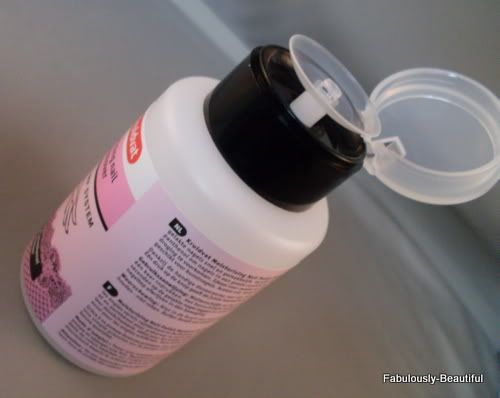 Dit lijkt me een super handig systeem! Geen remover meer over de vloeren (Woeps... Dat had ik laatst voor het eerst... ><), gewoon een watje op de tuit leggen, even pompen en tadaa! remover op je watje zonder geknoei! Ik heb hem echt net een uurtje of 2 geleden gekocht, dus of de remover fijn is, en of dit systeem écht fijn werkt, daar kom ik nog op terug. ;) Handig is ook dat, wanneer de remover op is, je er je eigen remover in de flacon (met aceton, HAAA! :D) kunt doen! :)
We gaan het testen, en natuurlijk wilde ik mijn vondst zo snel mogelijk met jullie delen!

De pompflacon nagellak remover zonder aceton kost €2,50 en is verkrijgbaar bij Kruidvat. Wel een tikje prijzig voor een remover (voor de andere flacon betaalde ik maar €1,29), maar dat zit hem vooral in de verpakking (die re-usable is!), denk ik.
Wat jij, aceton of non-aceton in je remover?