Zelf vind ik het nog altijd het allerleukst om
EOTDs
en
FOTDs
voorbij te zien komen op beautyblogs. Vandaar ook dat ik jullie vandaag wil trakteren op een lekkere flashy ooglook, want ik had zin om eens lekker tekeer te gaan met mijn 88 palette. Ken je dat, dat 'ie een tijdje onaangeraakt in een hoekje staat te verstoffen en dat je hem op den duur steeds weer pakt? Jay! Am in that mood since one week. ;) Voor mijn werk is het niet handig zulke ooglooks te dragen, en dus blijft het vaak , zoals bij zoveel ladies, bij een neutrale aardetinten-look. Toch vind ik dit soort knallende ooglooks ook altijd heerlijk! Leuk om te maken en het resultaat is vaak verbluffend. Benieuwd geworden?
Continue reading!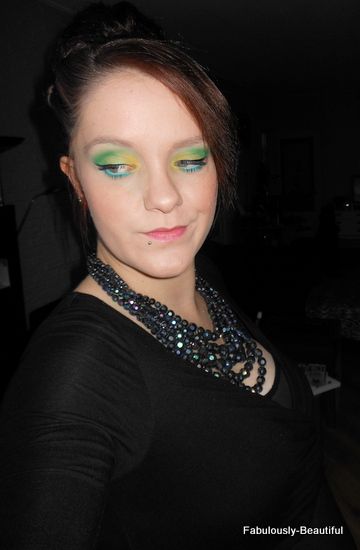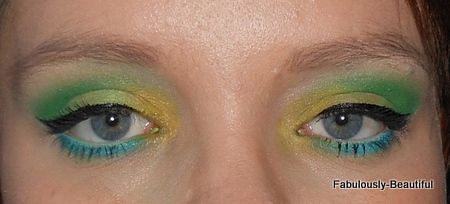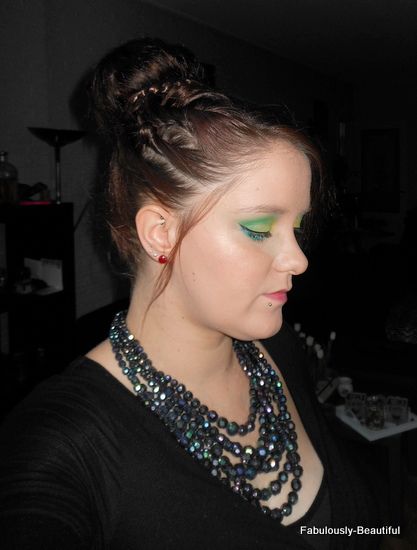 Flashy or flashy? ;) Ik vond de uitkomst vooral lekker tropisch, en ondanks de felle ooglook is de look, door haar verder rustig te houden, prima draagbaar. Oké, misschien een béétje muchos voor naar je werk of naar school, maar naar een feestje is het wel erg leuk toch? Gewoon, omdat het kan! Lekker buiten de lijntjes kleuren (figuurlijk, niet letterlijk ;)).
Wat heb ik gebruikt?
Gezicht:
- MAC
Studio Fix Fluid SPF15
foundation
in
NW20
- MAC Pro Longwear concealer in NW20 (onder mijn ogen en op plekjes)
- MAC Studio Sculpt concealer in NW20 (om mijn wenkbrauwen mee te 'shapen')
- Collection 2000 Lasting Perfection concealer in 'Light 2' (onder mijn ogen na alle felle kleurtjes e/s)
- MAC Studio Fix pressed powder in NC30
- MAC powder blush in 'Mocha'
- MAC Mineralized Skinfinish in 'Soft and Gentle'
- Essence SunClub bronzer in 'For Blondes'
- Catrice Made To Stay Longlasting Eyeshadow in '040 Lord of the Blings' (als basis)
- Uit het 88 matte palette: Nudekleurige highlighter (a4 + a3), pastel geel (innerconers, b2), 2 pastel groene kleurtjes (naast de gele kleur, c2 + c4), medium (c7) en donkergroen (c8 + d8, in de crease).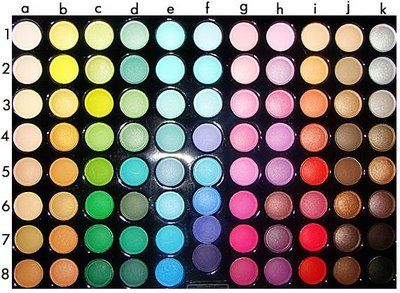 - Uit het Sleek Carribean palette 'Curacao'; Martini (als highlighter gemengd met de matte nudekleur uit het 88 palette), Screwdriver (innercorners), Green Iguana en Apres Midori gemengd (in de crease, over de 88 palette kleurtjes heen). Blue Lagoon (over het bourjois potlood, op de onderste wimperrand).
- Bourjois Regard Effet Métallisé in '54 Bleu Clinquant' (aquablauw)
- Catrice Kohl Kajal (wit, op de waterlijn) potlood
- L'Oréal Paris Super Liner Black Laquer in 'Black Vinyl'
- Essence 'I Love Extreme Crazy Volume' mascara in zwart
- Catrice Eyebrow Stylist potlood in '020 Date With Ashton'
- Catrice Eyebrow Set poeder in de lichtste (as)-tint
- Een dun laagje Maybelline NY Color Sensational lipstick in '020 Tropical Pink'
Het lijkt alsof ik heel veel producten dubbel gebruik (zoals de concealers en de oogschaduw-kleurtjes), I know! De concealers gebruikte ik allemaal voor andere doeleinden, en ik besloot een extra dotje aan te brengen nadat ik mijn oogschaduws had aangebracht, door de fall-out van alle kleurtjes.
De oogschaduws van Sleek zijn net een tat intenser dan de matte kleurtjes uit het 88 palette. Deze gebruikte is dus vooral om de look wat meer intensiteit te geven. Dat ook weer uit de wereld. ;)
Hope you enjoyed, ladies! :) I sure did!
Naar welke occasion zouden jullie zulke felle make-up dragen?